It all starts with a place.
Where I've been is
what I write about.
Anyone who knows me, or my work, is well aware that what I write is based on my experience of a place, its history, character, and story-telling possibilities. My first novel, The Day That I Die, and my most recent novel, The Master Blaster, are set on my frequently-revisited Peace Corps island of Saipan. The Philippines and my home state of New Jersey have engendered books. So have Gambier and Kenyon College. I'm utterly familiar with the place I call home and sometimes wonder if — congenial as it usually is — it has lost its ability to surprise me.
That, it turns out, is a mistake. July 4, 2015 startled me. Fresh from yard work, unshaven and unkempt, I made my way into the village, looking forward to chatting with friends and neighbors, listening to speeches, watching a notoriously quaint Independence Day parade. The usual stuff. But I was ambushed — pole-axed — when I saw my Kenyon classmate (1964) and lifelong friend, Perry Lentz at the podium, announcing the 2015 Gambier Citizen of the Year. Me. The applause, the plaque, the bouquet of roses — which I couldn't quite figure out how to hold with real dignity — were unforgettable. So were the things Perry Lentz said about me. This picture is worth a thousand words.
Kirkus Reviews is applauding A Call From Jersey
as "heartfelt, funny and poignant."


The Latest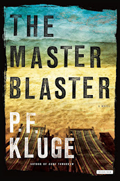 Buy
The Master Blaster

, my Saipan-based novel, is now out in the world. The test of writing is to see whether you can make what matters to you matter to an audience of strangers. Will they "get it." One huge answer appeared in the New York Times on Monday, March 26. "A Far-off Island Where the American Dream Curdles." This is the sort of review a writer hopes for. Read it all. Every word. And be assured that the morning I first saw the review rates among the top ten, maybe top five moments in my life. Share it with me, please.

Not long ago, I was featured in Kenyon Trustee Matt Winkler's "Kenyon Unique" lecture series. What followed was an attempt to sort out my career so far.

This just in: Dog Day Afternoon in stage adaptation will arrive on Broadway and in London in the next couple years.